Posted 5/24/19
2019 Induction Ceremony Photos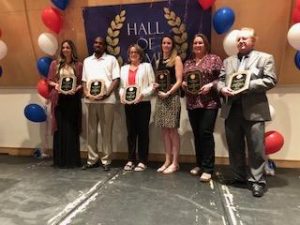 2019 Inductees assemble for group photo
at conclusion of May 3 ceremony. L/R:
Natalie Nelson, Benson Jones, Katie Webber Caderao,
Lindsay Nelson, Pat Middendorf, George Smylie
Below, Katie Webber Cadero
with her presenter Craig Elliot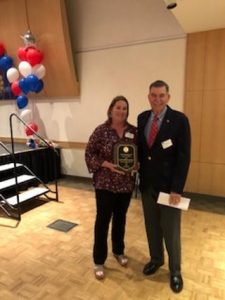 To the right, Natalie Nelson with coach Dennis Bledsoe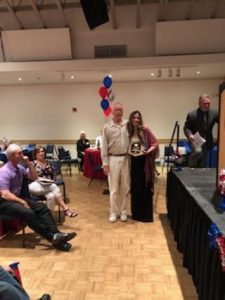 Crowd shots from the Induction gala….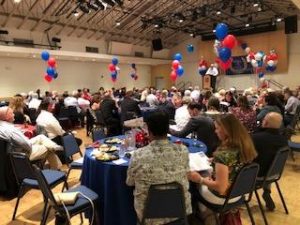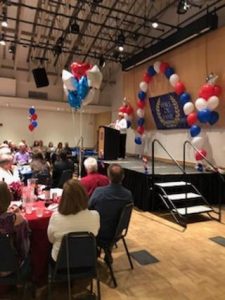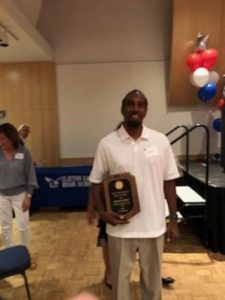 1998 California CIF State triple jump champion Benson Jones
shown here with his Inductee plaque. Benson was also the 1998
Boys Co-Athlete of the Year for CVHS.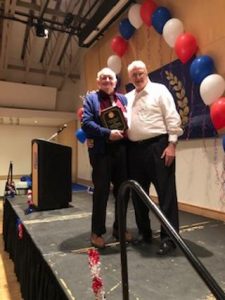 Old timers Mickey Wharton and Gary Logsdon, both class of '65,
meet again after all these years. Mickey provided some comic
relief after a couple of long-winded earlier  speeches when he
presented Gary to the crowd.
Posted 4/17/19
CVHS Bocce Fundraiser pictures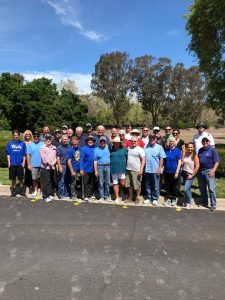 CVHS alumni take a break in the action
and assemble for this group photo. Represented
here are current and former CV  students
dating back to the early '60's.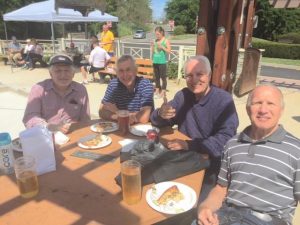 Former CVHS wrestlers teamed up again for the Bocce tournament
L/R – Doug Balough, Jay Todesco, Pete Laurence, Pat Martucci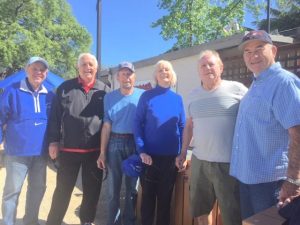 Veteran CV coaches took time for this picture
L/R- John Miller, Peter Carpino, Tom DiMecurio,
Dee Billeter, George Smylie, Bill Nelson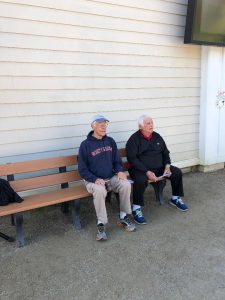 Coaches Dennis Bledsoe and Pete Carpino
watching the action
Rollers in action……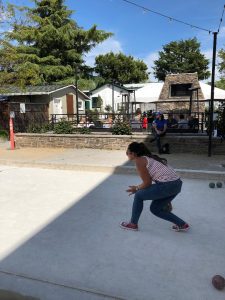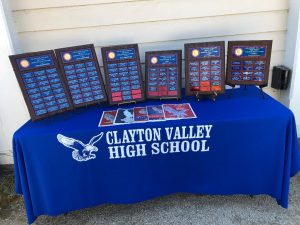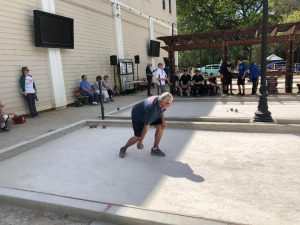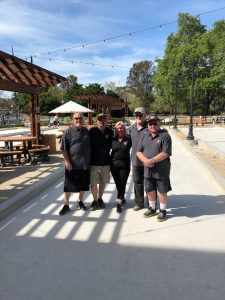 1st place champions, Ed's Mudville Grill won a thrilling
overtime victory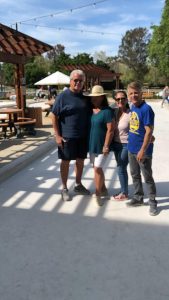 Runner-ups team, Members Only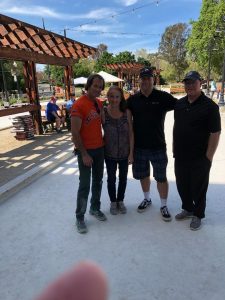 3rd place winners – Take It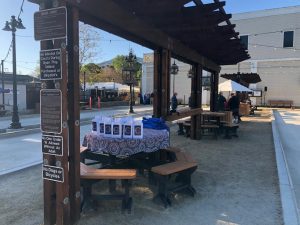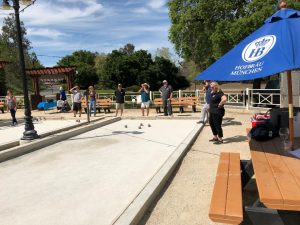 Dee Billeter getting things started early Bocce Ball morning
Posted 2/23/19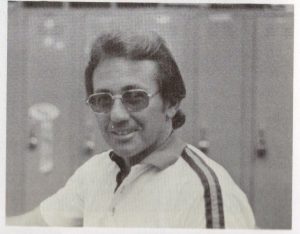 George Smylie is the 2019 inductee for coaching
at CVHS. In his years at Clayton Valley he was the
head football, girls basketball and track and field
coach. His career included multiple league and North
Coast championships. He was awarded Coach of the
Year on multiple occasions.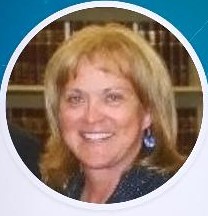 Pat Middendorf is this years inductee for Community/Leadership.
Pat is a  longtime teacher, coach, athletic director and activist
for the sports program at Clayton Valley High School.
2019 inductees pictured here are the 1979
championship girls volleyball team. The team went
undefeated at 16-0. Bottom L-R: Karen Tanney,
Randi Karber, Janet Waters, Senna Satre.
Top L-R: Deepka Mathur, LeeAnne Fine, Sharon
York, Kellie Ruiz, Karey Sheehan, Margaret Kubitschek.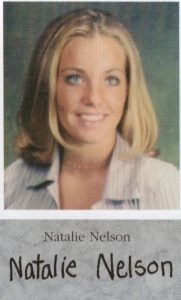 2019 inductee and sister of fellow 2019 inductee
Lindsay Nelson. Natalie was a four year swimming,
water polo and basketball star. She won nine varsity letters
and multiple team MVP awards. After high school Natalie
went to become and outstanding scholar athlete at
UC Berkeley.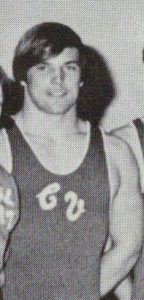 2019 inductee Bruce Kopitar was a 1977 graduate and
Athlete of the Year. Bruce was a star in both football
and wrestling. In 1977 he led the wrestling team to a
CIF State Championship where he also captured the
individual championship crown. The '77 team was the
first northern California school to capture an all-state
championship.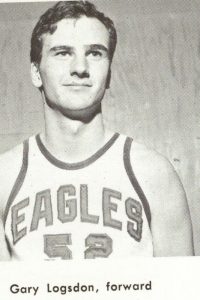 2019 inductee and 1965 graduate Gary Logsdon
shown here in his basketball uniform.  Gary was
a three year performer in basketball and baseball
where he was a star pitcher and hitter. In his senior
year he was named to the All-DVAL Team in both
basketball and baseball. 1965 CV Athlete of the Year.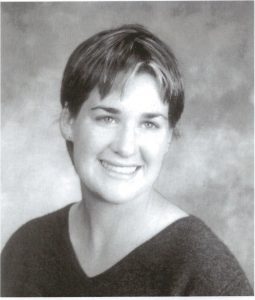 2019 inductee Katie Webber Caderao was a 2000
graduate and female Athlete of the Year.  She was a
three sport star in volleyball, basketball and golf. She
was a multiple varsity letter winner and after high school,
Katie received a golf scholarship to Long Beach State University.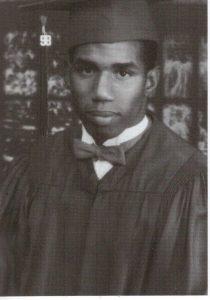 2019 inductee Benson Jones was a
track star and 1998 CVHS graduate.
as a senior Benson was the CIF state
champion in the triple jump and was
CVHS co-Athlete of the Year.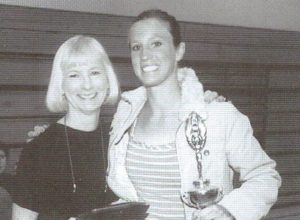 2019 inductee Lindsay Nelson pictured
here with Athletic Director Dee Billeter
after winning the 2003 Athlete of the Year
award. Lindsay was a four year letter winner in
swimming and water polo and won the water
polo MVP Award three years in a row.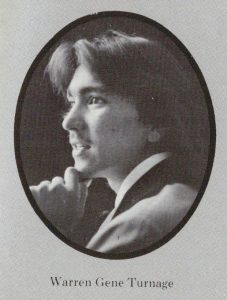 2019 inductee and 1978 graduate Warren Turnage is
pictured here in his senior yearbook.  Turnage was a four
year varsity wrestler, a two time DVAL and North Coast
Section champion.  In his junior year he was the CIF State
runner-up and in his senior year he climbed to the top of
the podium as State Wrestling Champion.
Posted 10/1/18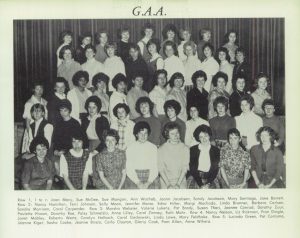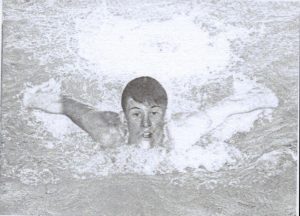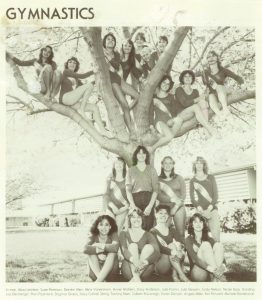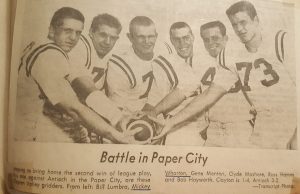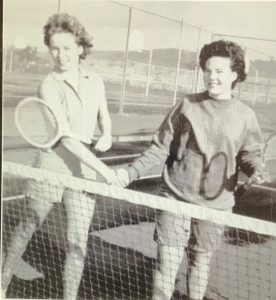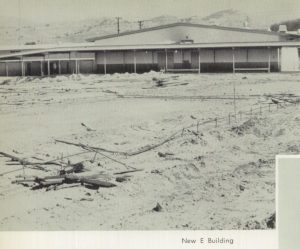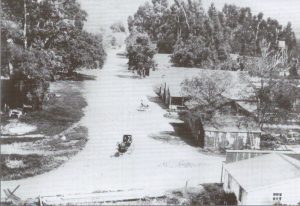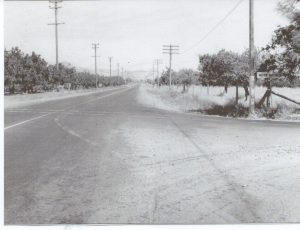 Posted 9/19/18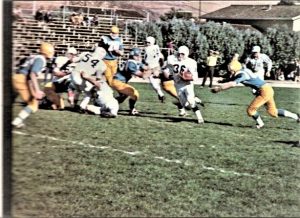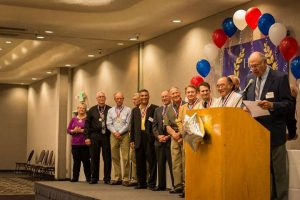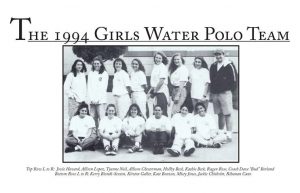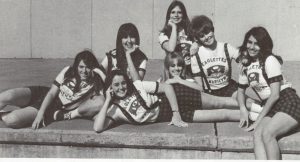 Posted 8/31/18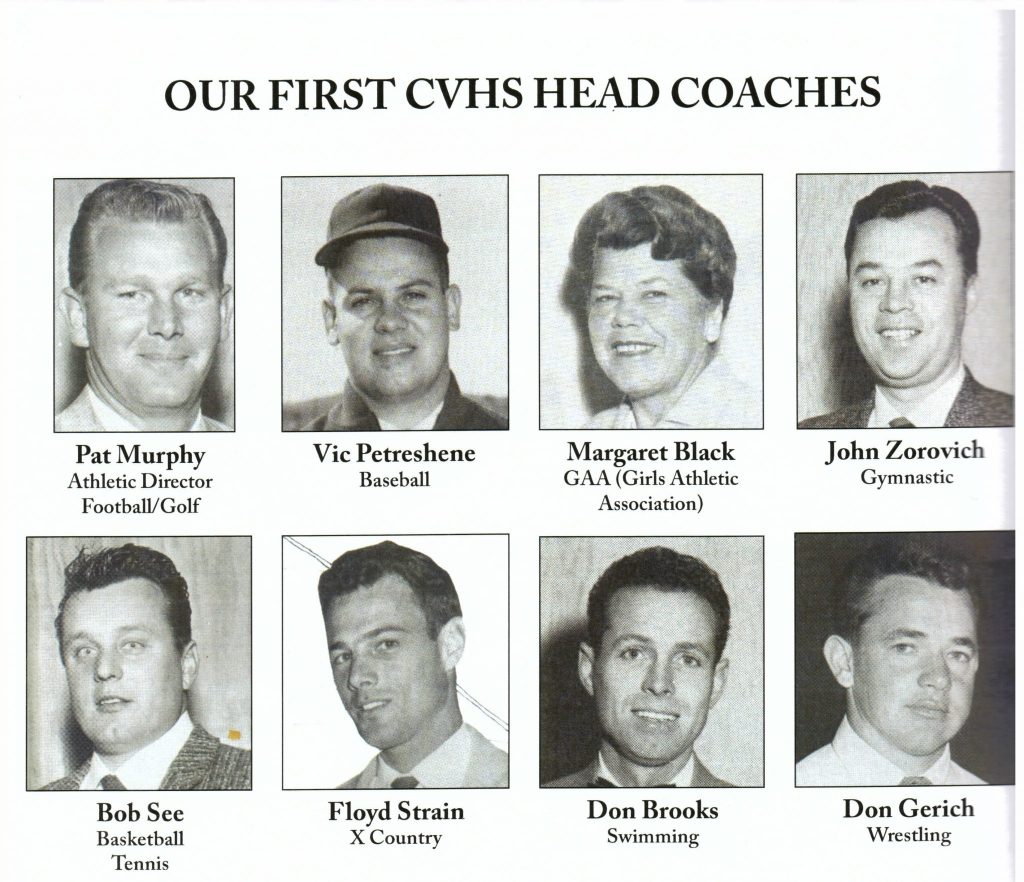 Clayton Valley's first coaches, 1958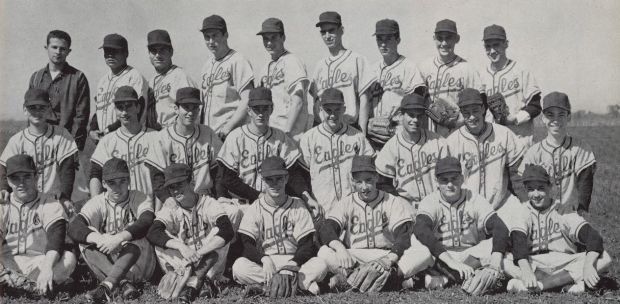 Clayton Valley's first DVAL league championship baseball team. The '60 Eagles were led by head coach Vic Petreshene to a 16-3 overall record. Pitcher Frank Snyder, outfielder Austin Deaton and third baseman Bud Beemer were named to the All-League First Team.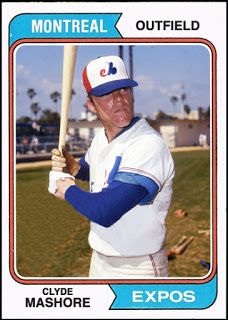 Clyde Mashore, HOF inductee in 2008, was a 1964 graduate and future Major League Baseball player.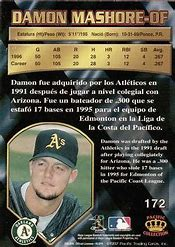 Clyde's son Damon, a class of 1988 CVHS multi-sport athlete and future MLB player with the Oakland A's was inducted into the HOF in 2013.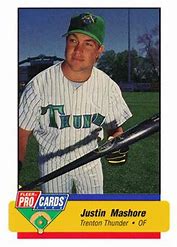 Son Justin Mashore was also inducted in 2013, with his brother. He was a 3rd round draft choice of the Detroit Tigers and played professionally in the 1990's.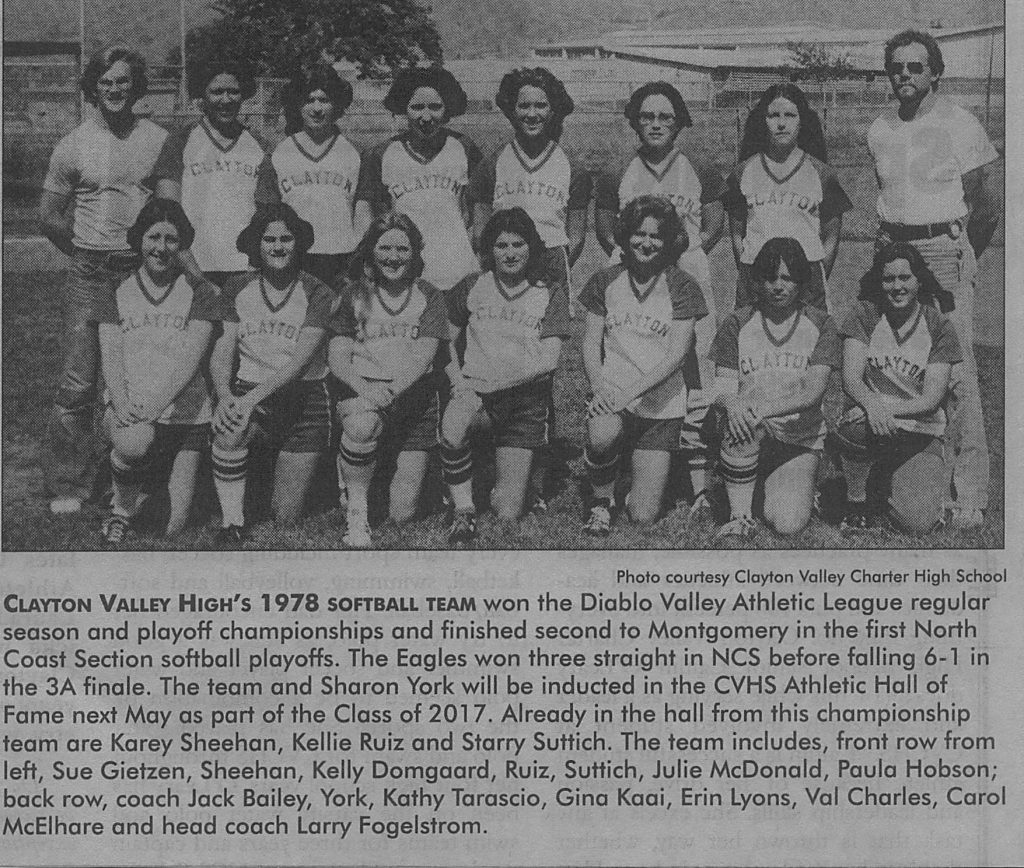 The 1978 Girls Softball Team won 10 straight league games and went on to win the DVAL League and Tournament titles. The Lady Eagles were led by senior shortstop Starry Suttich who was named the Fitzpatrick Super Sport Player of the Year.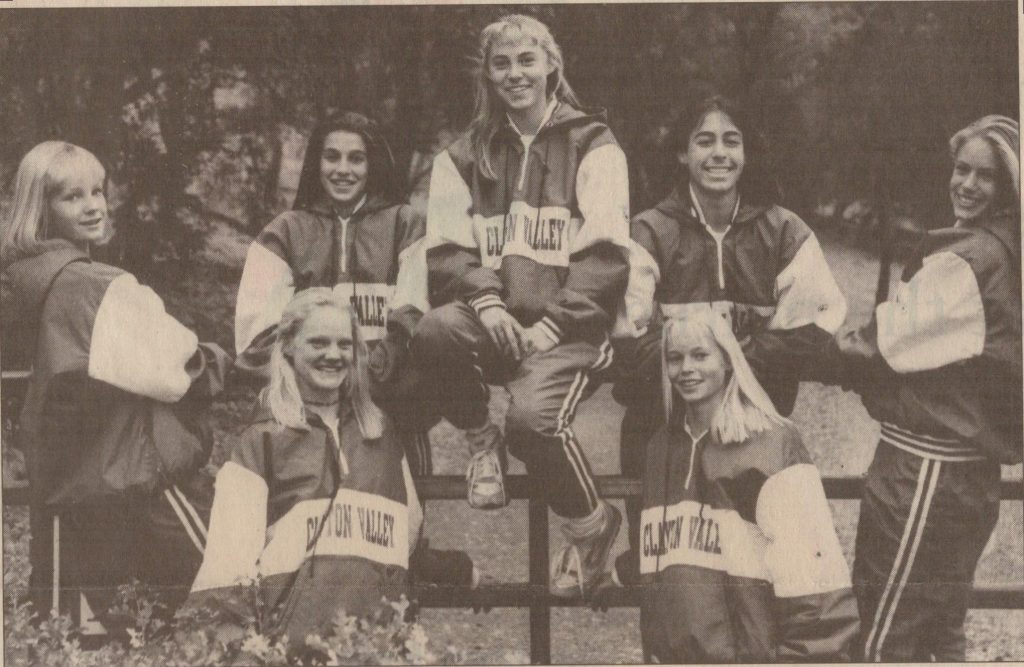 The 1994 CVHS Girls Cross Country Team set a standard still being chased today. The team went undefeated all season and won the California (CIF) State Division 3 championship. The girls team included, bottom from left, Sarah Frieberg, Deborah Osteen; top row, Louise Indrisie, Marcella Vilalobos, Deborah Osteen, Kelly Howisey and Heather Wallace. They were 2013 inductees to the Hall of Fame.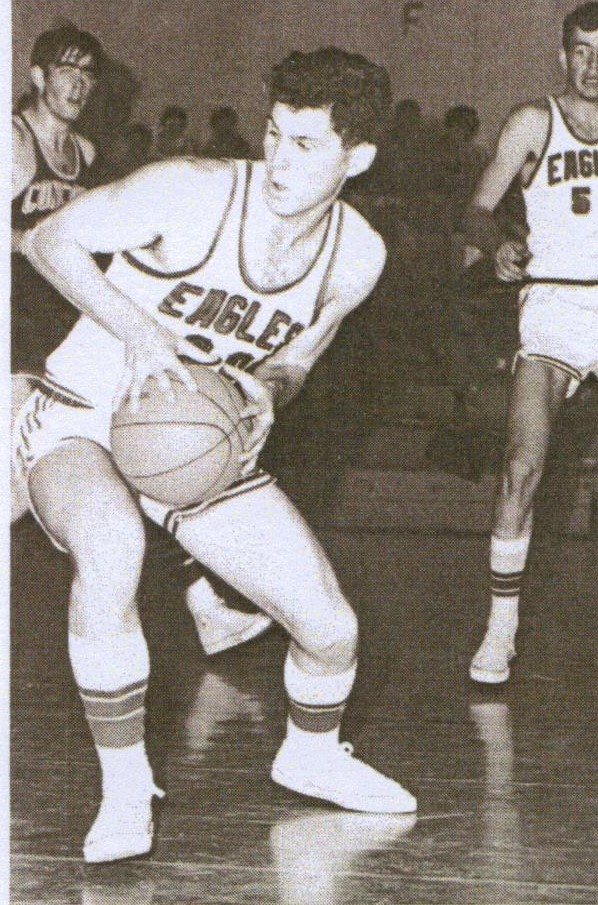 Another 2013 HOF inductee was Carl Massey shown in action on the court here. Massey was a 1969 grad, a three sport athlete and was named to the All-League Basketball Team along with fellow guard Marc Lee.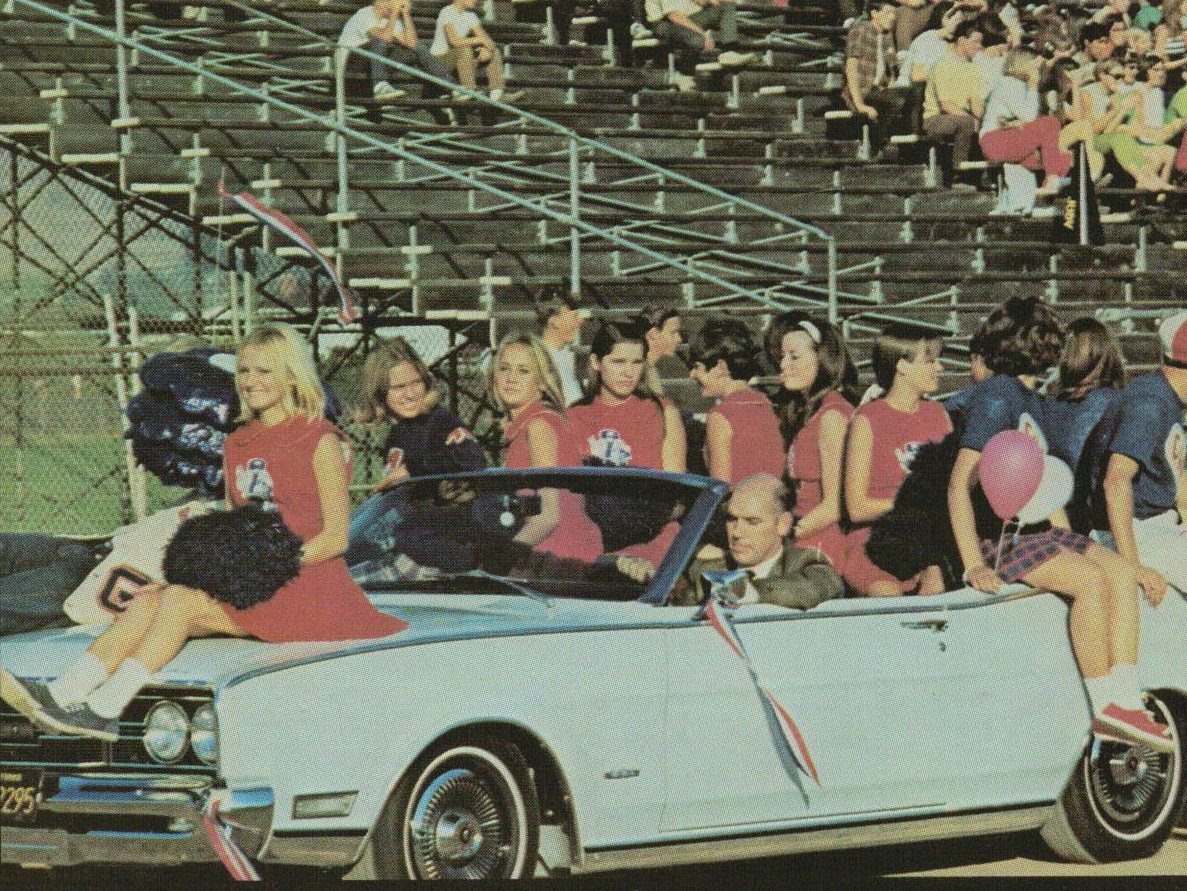 Cheerleaders have always been a big part of the sports scene at CVHS. Here circling the football field in the Fall of 1968 are, left to right, Debbie Tamborski, Wanda Alexander, Gail Paulson, Sue Burror, Joanne D'Aquino, Bernadette Bromley, Janice Wilcox, Mr. Trueblood (driving the car), Ellen Findlay (head turned), Bonnie Blair (head turned) and Fred Hoyer (Senior Men's cap).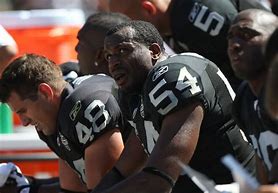 Pictured in his Oakland Raiders uniform is Sam Williams, a 1998 graduate and 2013 inductee into the HOF. Sam played college ball at Fresno State and went on to play linebacker for the Raiders from 2003 to 2011.

Hall of Fame Committee Chairperson Herc Pardi along with Committee member Bud Beemer at the 2015 induction ceremony.

Inductee Erin Dobratz McGregor (on the left) along with her presenter Alli Wigton poses with her plaque at the 2015 ceremony. Erin, a 2000 graduate was a swimmer at Clayton Valley and went on to win a Bronze Medal in Synchronized Swimming at 2004 Summer Olympics in Athens.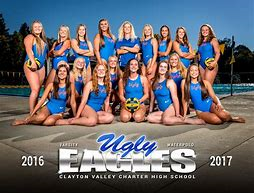 Girls Water Polo 2016/2017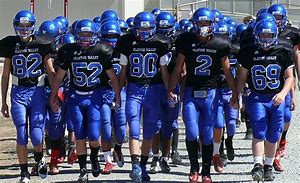 "The Thundering Heard"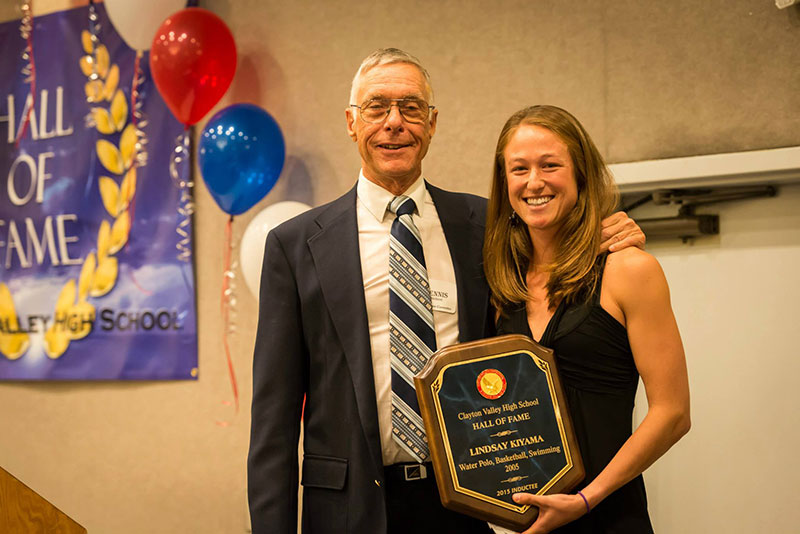 2005 graduate Lindsay Kiyama with aquatics head coach Dennis Bledsoe at the 2015
induction ceremony. Lindsay was a standout in Swimming, Water Polo and Basketball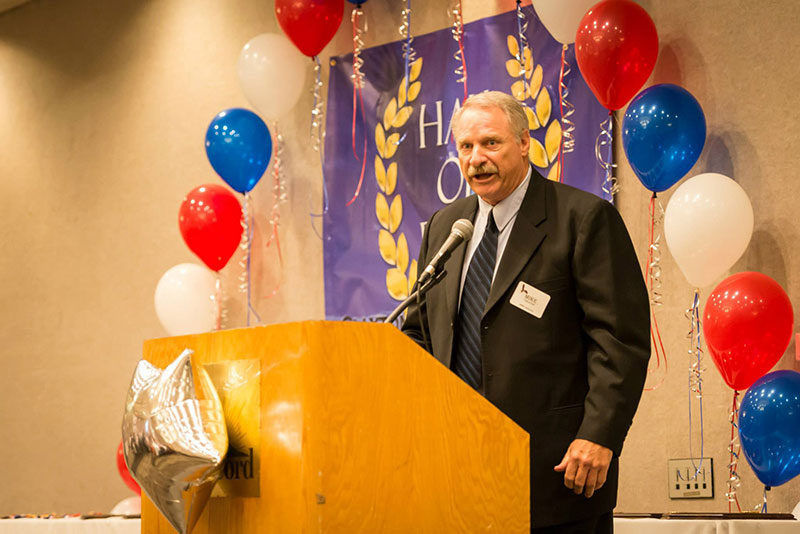 Mike Haluchak giving presentation at the 2015 Induction Ceremony. He is one of three HOF inductees from the Class of '67. Mike was a Concord Transcript All- Decade linebacker and Clayton Valley's 1967 Grand Altair winner. He went on to play football in two Rose Bowls with USC and then on to coach in the NFL. He coached in the 2002 Super Bowl game – Rams vs Patriots.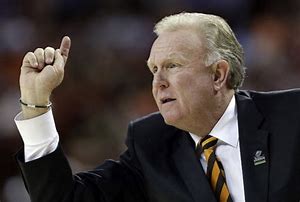 Bob Thomason, Class of '67, shown here as the head basketball coach at the University of the Pacific where he was also a standout player. Bob was named to the Concord Transcript All- Decade team and still holds many school scoring records. He averaged 25.9 points a game his senior year, a record that still stands. He went on to coach at UOP for more than two decades.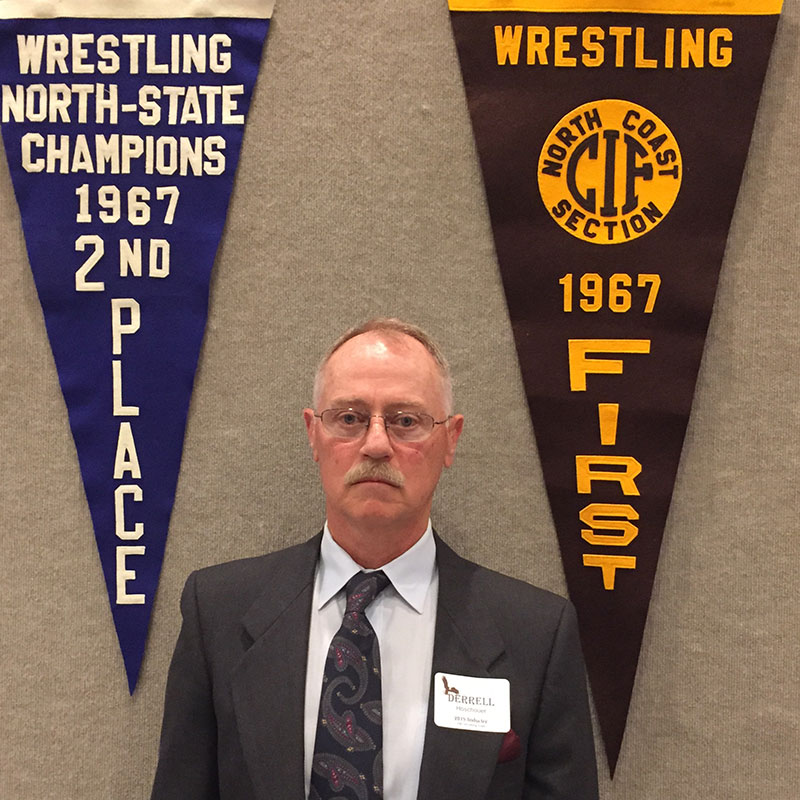 Derrell Hoschouer, another Class of '67 stand-out, shown standing in front of memorabilia from his senior year when the Eagle wrestlers completed a run of thirty straight dual match victories. He was the MVP wrestler on a team of stars that won the DVAL Dual Match, Tournament, and North Coast Section championships. Derrell won four tournaments his senior year including the North State championship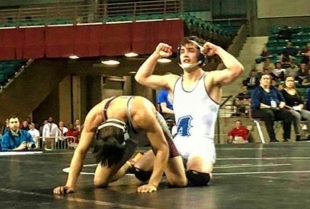 Future HOF candidate Troy Lakin shown here after winning the 2017 NAIA National Collegiate Wrestling championship for Menlo College. Troy was a standout for Clayton Valley where he was a League and North Coast champion and went on to place at the CIF State Tournament. He only got better in college and won the national title his senior year.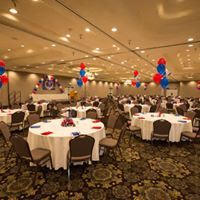 Pre-ceremony at the 2015 Induction gala